2023 School Board Appreciation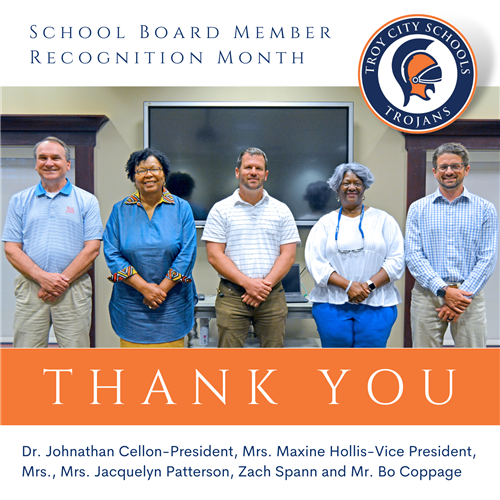 We would like to say a special THANK YOU to our
Troy City Schools
School Board Members!
January is School Board Member Recognition Month
School board members exemplify local citizen control and decision-making in education. They volunteer hundreds of hours and an immeasurable amount of energy to assure that our schools are providing the best education possible for the children of our community. Here are some reasons we are taking this opportunity to show them our appreciation during School Board Recognition Month in January.
School board members are citizens whose decisions affect our students. These men and women are appointed to establish the policies that provide the framework for our public schools. They represent you, and they take this responsibility seriously by attending lengthy-sometimes challenging-meetings, conferences, and institutes where they broaden their knowledge about education.
Too often we neglect to recognize the dedication and hard work of these men and women who represent us. The administration, faculty, staff and students of Troy City Schools are asking all local citizens to take a moment to tell our school board members: Dr. Johnathan Cellon-President, Mrs. Maxine Hollis-Vice President, Mrs., Mrs. Jacquelyn Patterson, Zach Spann and Mr. Bo Coppage. "Thanks for caring about our children's education."