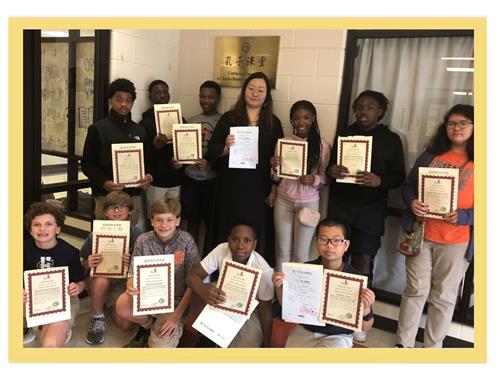 Top Row: Landon Givens, Jumari Byrd, Zachary Batie, Ms. Elle, Zion Suddith, Zachary Coleman, Joanna Cooper
Bottom Row: Hayden Adamson, Jacob Meadows, Noah Dunn, Malcom Lightfoot, Anthony Chen
CONGRATULATIONS!
Eleven CHMS Confucius students took and passed the Youth Chinese Test (YCT). The YCT is an international standardized test of Chinese language proficiency. It assesses the primary and middle school students' abilities to use Chinese as second language in their daily and academic lives. YCT is divided into writing and speaking tests, which are independent to each other. The writing test consists of four levels, namely, YCT (level I), YCT (level II), YCT (level III), and YCT (level IV). The speaking test consists of two levels, YCT Speaking (Primary Level) and YCT Speaking (Intermediate Level). Go Trojans!
---